Pampas Grass Magic Garden Seeds
Muhlenbergia capillaris is one of the most exciting members of the grass world. Pink Muhly Grass is sought after for several reasons: spectacular pink plume color, drought tolerance and undemanding nature. Pink Muhly Grass grows in a mound with erect, blue-green foliage until September when spectacular, billowing pink seed heads form a cotton-candy crown. When planted in masses, the dramatic effect can take your breath away.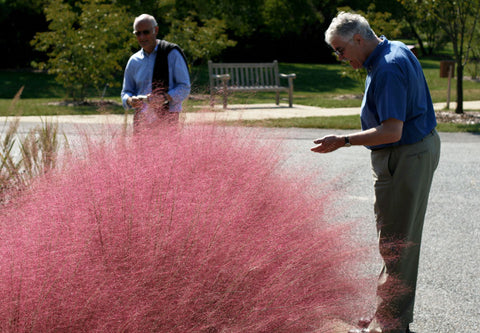 Because it is drought tolerant and requires little attention once established, Muhlenbergia capillaris is used extensively on highway medians, golf courses and in home landscapes. It's excellent on steep banks. Pink Muhly Grass should be cut back in early spring, but cut well above the crown (3-4") to preserve growing points. When planted in masses, allow adequate spacing for good air circulation to help prevent tar spot (Phyllachora). If planting in fall, plant at least a month before first frost in improve overwintering.

ITEM SPECIFICS
Seller Notes: "All our seeds are from the latest fresh supply and tested for viability"
Custom Bundle: No
Brand: Grass
Sub-Type: Grasses
Foliage: Blade
Season of Interest: All Year, Autumn, Spring, Summer, Winter Species: capillaris
Genus: Muhlenbergia
Sunlight: Partial Shade, Full Shade, Full Sun, Low Sun, Medium Sun
Variety: Fully Hardy Ornamental Perennial Grass
Type: Seeds
Germination: 12 weeks cold treatment required. Watering: Medium
Climate: Dry, Arid, Cold, Continental, Highland, Humid Continental, Humid Subtropical, Marine West Coast, Mediterranean, Mountain, Semiarid, Subarctic, Sub-tropical, Temperate, Tropical, Tropical Wet, Tropical Wet & Dry, Tundra Growth
Stage: Seeds
Hardiness Rating (RHS): H7 (< -20 °C) Growth Rate: Medium
Common Name: Muhly Grass
Indoor/Outdoor: Outdoor
Plant Form: Seeds
Colour: Pink, White, Purple, Yellow,Red
Soil Type: Chalk, Clay, Loam, Peat, Saline, Sand, Silt
Features: Air Purifying, Cold Resistant, Deciduous, Draught Resistant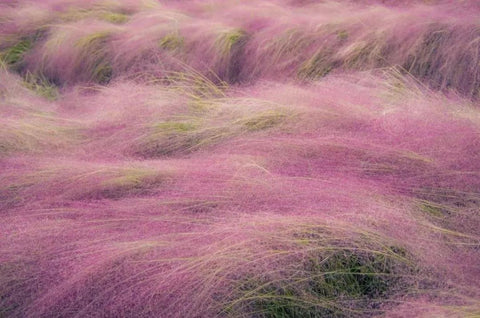 GROWER INFO & TIPS
Growth rate: medium-fast
Grow in 1, 2 or 3 gallon
Grow in well-drained soil
Water needs: evenly moist
Fertilizing: use a slow-release, medium-rate fertilizer
Possible pests: aphids, rust; tar spot (Phyllachora), especially in heat of summer
Overwintering: cold frame with clear poly; do not overwater
Can be cut back if plants get too tall or floppy; if cutting back, do so by early August so flowering is not interrupted
*Note: please adapt these suggestions as needed to accommodate your local conditions.

LANDSCAPING INFO
Native grass that is heat– and drought-tolerant; requires little maintenance
When in bloom, sweeps of this plant stop people in their tracks
Well suited for use in tough places such as traffic islands, parking lots and highways
Attractive mounding habit great addition to perennial borders and mixed plantings
Vibrant deep pink blooms in fall
Package included :
1 x 100Pampas Grass Seeds

Kindly Tip :
1.Reeds are easy to dry and inflammable. When burning, please pay attention to safety and prevent fire.
2.If you want to get rid of reeds, try not to choose the way of burning, because sometimes small animals hide in the flowers.
How to Grow Pampas Grass Seeds?
Pink pampas grass seeds require loose, well-drained, moist soil for germination. Plant the seeds indoors four to six weeks before the last killing frost in spring. Keep the plants indoors during the first winter to protect young plants from frost if seeds are planted later than spring.
[1]Plant pampas grass in spring. Your grass will need lots of sun, and only a small amount of water, so planting in fall or winter months could hinder your grass's growth.
Because pampas grass grows so large, it grows better outside in the lawn or garden, rather than in containers. Due to its size and also the sharpness of its leaves, it does not make a good indoor plant.
[2]Choose a location.
You'll want a spot with plenty of room as pampas grass grows tall as well as spreads wide. Choose an area with full sun to partial shade. Locations receiving at least 6 hours of sunlight daily are best for maximum growth.
This grass can grow to be over 10 ft (3 m) tall. It makes for an excellent natural fence.
Do not place pampas grass near roadways or driveways; the tall and bushy grass can interfere with lines of sight.
The plant should also not be placed too close to central air conditioning units as the long leaves can become caught in the fans.
Pampas grass leaves have sharp edges, so avoid planting in an area where young children play.
[3]
Prepare the soil.
Pampas grass grows best in areas with well-drained, fertile soil. Till the soil to aerate it then add an organic compost, peat moss, or manure to help fertilize the grass. Choose a loamy variety to ensure the soil will drain well.
[4]Plant seeds.
If you'd like to plant seeds rather than young plants, sow them directly onto the prepared soil. They need light to germinate, so don't cover them with soil. You can, however, rake the area lightly to prevent the seeds from blowing away or being eaten by birds. Water very lightly to ensure the seeds don't wash away.
How to Care Your Pampas Grass?
1.Water sparingly. Pampas grass can thrive in many conditions, and will adapt to its location. You need only water the ornamental grass once every couple of weeks for the first year of growth. Water more frequently during periods of extreme drought. No watering is needed after the plant is well established.
2.Fertilize the grass. During the first year, fertilize up to three times. After the first year, fertilize only once per year. Use a high-quality garden fertilizer to enhance the beauty of the flowers.It may take up to three years for your pampas grass to flower.
3.Prune established pampas grass. Use trimmers to prune your grass in the late winter or early spring months. You can also tie a piece of rope around the plant, about 4ft (1.2 m) from the ground and use a power weed trimmer to cut the grass. Remove all the foliage and flower stalks above 12 in (30 cm) in height.
Be careful and wear long sleeves and gloves when pruning and handling your pampas grass plants as the edges are sharp.
Cut through the clumps after pruning to divide them. The sliced clump can then be planted elsewhere.
4.Drain the leaves. Tie the leaves of the grass together with string in November to allow water to drain from the plant. This will prevent shock during the cold months.
5.
Cover the roots.
If you live in an area where temperatures dip below freezing, you'll want to put straw or mulch over the roots of your pampas grass before frost season. Alternatively, you can cover the roots with a fleece wrap.
6.Keep an eye out for diseases and pests. Luckily, pampas grass is almost entirely disease-free. However, pampas grass can occasionally develop spots. Simply use a fungicide to quickly get rid it. Pampas grass is also rarely eaten by animals, but it can serve as a great habitat for them. Because of this, it's a good idea to search your pampas grass from time to time to ensure that no unwanted guests are residing inside.
100% Secure payment with SSL Encryption.
If you're not 100% satisfied, let us know and we'll make it right.
Orders ship within 5 to 10 business days.
Tip: Buying 2 products or more at the same time will save you quite a lot on shipping fees.